Review Detail
3.2
3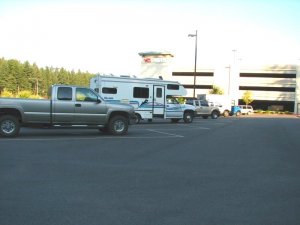 report from James M., September, 2008

Driving Directions
I-5 going South from Seattle area
- I-5 South
- Off at 116 Exit, Old Nisqually Rd
- Turn left over the bridge
- Follow the road 3.8 miles
- Turn Left on Reservation Rd
- Go 2.7 miles to the T intersection (Hwy 510)
- Turn Left and go 1.3 miles to the casino
(on your right)
Driving Directions
I-5 going North from Portland area
- I-5 North
- Off at Exit 111, Marvin Rd S
- Go straight through Round About to
Marvin Rd S
- Turn Right on Marvin Rd S
- Go 2 miles to Round About
- Take Hwy 510 East toward Yelm exit
- Go straight 6 miles
- Casino is on your right

RV PARKING: Has a parking lot across the street from the front of the casino where RV's and trucks can stay overnight- free. Doesn't attract many trucks as it is off the freeway a few miles. Usually quiet.
Just an empty lot- nothing special but the price is right and it is close to the front door. Lots of games. WE LOVE THE BLUE CAMAS BUFFET. Sun-Thurs $11.00 for seniors (normally $15.00) with a club
card. BEST PART: Unlimited Dungeness Crab and Peeled Shrimp. Yes, they have other offerings but we pile our plates high with crab and shrimp and just "pig out". Fri. and Sat the price goes up.

Comments