Review Detail
4.2
3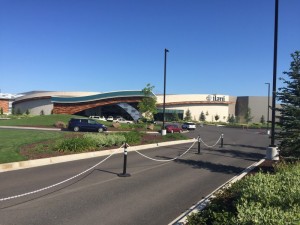 Ilani (aye-lan-aye) Casino is an Ace
We pulled into this new casino on a Tuesday at 5pm. We could not see any other rigs, so opted for a quiet part of the parking lot - #5 down towards the shuttle stop. All tarmac, level for us, good lighting, and regular security patrols all night. We checked in with a security guard in the casino entrance. Explained where we were parked, and that we planned to spend some time in the casino. He stated that we could stay there for 24 hours, no problem. Or, we could move to a gravel area south of the parking lot with the big trucks, but said where we were (lot 5), was better.
We had a great night, quiet, and felt safe. The bathrooms in the casino were very clean! Starbucks coffee open in the morning.
We noticed some other RVs at the gravel area, but were happy to have stayed in the parking lot. No big trucks pulling in and out.
If you stay here, respect the space and leave nothing behind.
Comments