Review Detail
3.9
5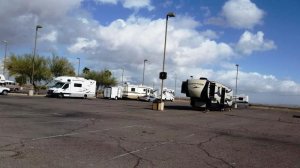 As of March 7,2019 there will be NO RV parking in the front lot. All rigs will have to park behind the casino in the "west" parking area. We were notified in writing about this change. Had spent 3 days in the front lot with no problems.
Comments
1 results - showing 1 - 1
Do you think security/casino would have an issue with us bringing down our side patio? We wouldn't be using the actual patio but it does allow us to get more lighting in the toyhauler via the sliding glass doors. Any advise would be appreciated.
1 results - showing 1 - 1