Review Detail
3.6
3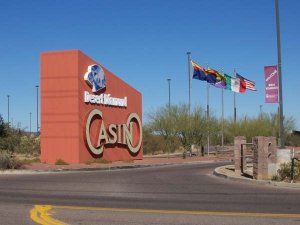 -report from reader Karen B., January, 2007
We stopped for a quick overnight here. It's very convenient , right off of I-19 at exit 80, but this makes it a little noisy because it's so close to the interstate. To get to the RV parking make the first left after turning into the casino driveway. The parking area is very big , making a semi circle around the casino. Security uses bicycles and would like you to check in with them so that they can take your information and give you a copy of the rules. Don't worry if you can't find them - they'll catch you at your motorhome eventually.
 
We went into the casino for a few hours. It's fairly new and nicely designed but it seemed to have pretty bad paybacks. All of Arizona's casinos are owned by Indian tribes and aren't required to post the payback percentages, so we can only go by our very short experience. See photo of parking area.

Comments