Review Detail
4.0
6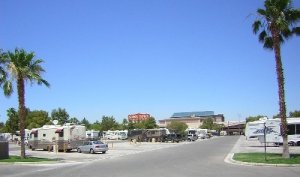 Recent stay at Sam's KOA RV park was extremely enjoyable. We stayed at the south side park. The check in staff was friendly and accommodating since we have dogs and have specific spaces we like for them. The facilities are clean and the park, even though our space was very close to the Boulder Hwy, was quiet. It is a walk to the casino from the south RV park and it looks like the north RV park is even farther.
We ate at TGI Fridays. It always seems like all TGI Fridays are short staffed and this was no exception. So if you have lots of time, this is an option. They do have good happy hour specials.
It looks like they allow long term rental too. We enjoyed our stay and definitely will stay again.
Comments