Review Detail
4.3
5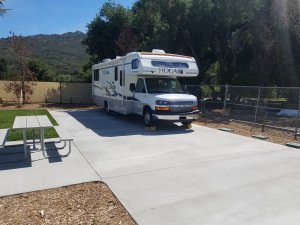 I was just at Pachanga RV Resort,in the new section in a Premium back in site. I was very surprised at how much the spot sloped toward the street.It seemed that all the ones here were the same,nice spot but all the new trees were dead.

I moved to the very rear of the space to get as level as possible,it was much worse near the street. I still had to get up on the very top of my blocks,as others had to do in the same section.I did see a few in the old section that had to use blocks but not as bad as the new section.

If I go again I will not stay stay in this section,I would stay in the old section.

On the positive side the shuttle to the Casino was prompt and came right to the Space.Coming back it sometimes took a while for them to show up,we asked about that and the driver said that they were stationed at the lot next to the RV park.

The nice thing about reserving on line is that you don't pay anything up front,you pay when you get there and they ask if you have any memberships like AAA,Good Sam, AARP etc.then they discount what you have on your conformation E mail,ours was $20 cheaper than what they quoted us.
For as large as it is there is not a lot of restrooms and showers, each restroom has 2 showers,they all seem to be on the outside corners of the park,to be fair the one at the pool was under construction.

Food is ok but very pricey $$$,I mean $15 for a sandwich and $8 for a beer to go with it,at their food court.check their website for the restaurants and buffet $$$

Large and glitzy and laid out so you will get lost following the overhead signs to the places you try to get to,but I guess they did that on purpose!
I may return but only after checking out other casinos in the area.

Comments