Review Detail
3.6
6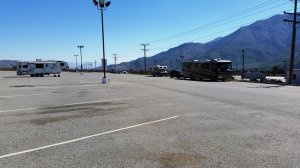 November 11, 2010
(Updated: November 23, 2010)
RV parking is very nice. We got lost finding it and ended up in the truck parking area. We were were then escorted by security to the RV parking.

There is a gas station on site.

Our overall impression was tempered by the stingy slots and expensive top floor restaurant. We had a glass of house wine while we read the menu and the wine was about $12 a glass!
Comments