Review Detail
3.6
5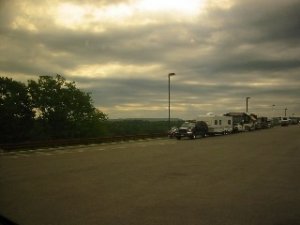 Bring lots of leveling blocks
As others have said, the parking lot, although paved is very uneven - slopes towards the Thames River - you can park right along the guard rail and look down in to the river, but be prepared to be up in the air on one side of your rig if you do. We ended up in center of lot, straddling several sites to find a level enough spot for our rig. When you arrive, phone security and they'll come up to register you - go ahead and get set up while you wait (although for us they followed us up the hill). We stayed midweek in Sept and had lots of open space to choose from.
Shuttle bus to casino comes through every 15-20 minutes - lots of dining option in casino from coffee & donuts, to burger to buffet and then the $$$$ name restaurants. We ate at Margaritaville as they offer early bird $5 drink and appetizers from 3-6 pm.
Very large casino with lots of gaming areas. Still found them overpriced with $10 Black Jack mid-day.
Comments