Review Detail
3.3
1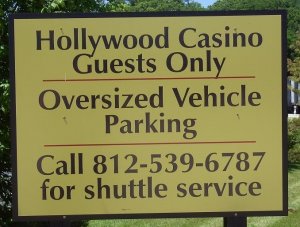 Report from Denise Z., June 26, 2009

We called ahead of time and were told there was RV parking. We were disappointed when we arrived to find that the lot was not on the Casino grounds. The lot was deserted and we were not comfortable leaving the RV out there in the middle of nowhere. No security was around. This was on a Saturday night. We stayed an gambled for a few hours then left.

IS PERMISSION REQUIRED? No. but talking to security is probably a good idea.

RELEVANT SIGNAGE: There was no signage. We followed bus parking signs and ended up asking a valet parking attendant who directed us back out of the property and down the road about 1/4 mile.

DRIVING DIRECTIONS: The lot is on the main drag on the right hand side  before you get to the Main Casino entrance. There is a small sign that says Hollywood parking. It is next to and slightly behind the McDonalds.

OTHER PERTINENT INFORMATION: You have to call security to get transport to and from the casino.

CASINO The casino is now a Hollywood Casino. It has been updated inside and it much nicer than in the past. We were there the weekend of the grand opening and it was extremely busy. The restaurants are about the same and the buffet is good quality. The casino itself is nicer and there are some updated video games as well as more tables.

Comments