Review Detail
3.8
1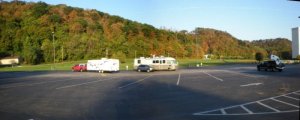 - from D. Edgar, July 2007

Stayed at the Caesars Indiana, at Elizabethtown, In. on the Ohio River across from Louisville, Ky. We stayed in the oversized vehicle parking lot, which is on the west end of the casino complex, and the only entrance to this area is on the west end of the complex, marked by "receiving this entrance" we asked at the hotel desk about staying in the parking area, was told it was OK, no hook ups, just pavement parking.
 
Very nice casino, very nice dining, very tight slots, now we have to go back as I think they owe me some money that we left behind, and we WILL go back.

Comments