Review Detail
3.7
4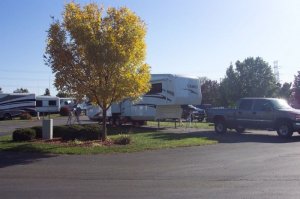 We stayed at the Casino Queen in August, 2013. We were located in the area reserved for smaller units. The full hook-up site was a pull through, and was big enough to park our Ford F-250 and 19' Airstream without having to unhitch. The site was perfectly flat, and the entire RV area was extremely well kept.

Casino security had a constant presence, and were available 24/7 to take you to the casino, hotel, or Metro station which were all nearby. We didn't go to the metro, but the casino and hotel were within comfortable walking distance. We only stayed one night so we didn't take advantage of all the amenities, but were told we had access to the hotel pool, etc. We were given access cards which was necessary to get in the rest rooms, showers, and hotel area. We're not gamblers, so most casinos look the same, and this was no exception. We had dinner at one of the restaurants in the casino, and it was very good. Wifi was a flat $5 for the entire stay, whether it be one day, or several, and the signal and speed was excellent. We used our satellite dish, so we didn't hook up to the cable TV. There were very few trees, so access to a satellite signal was excellent from any site.

If you're looking for a safe, clean, inexpensive place to stay, I strongly recommend the Casino Queen. We payed $25 per night, with the Good Sam discount.
Comments