Review Detail
3.7
4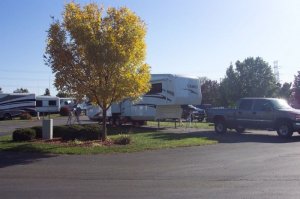 We spent two nights in the Casino Queen RV Park in East Saint Louis, Illinois on July 22 & 23, 2011. As stated in the previous post, the RV Park is divided into two sections with the north section reserved for smaller class A's, and B and C motor homes, and trailers of all types. This section is fully paved, with sites divided by crushed rock, with some small to medium trees to provide limited shade for those fortunate to be assigned those sites. The south section, reserved for all large class A motor homes and larger fivers is paved, but all the grass between the sites is gone – with the same crushed rock now in place between sites, and no trees are available.

The casino's web site still indicates there is grass between the sites, as does the receipt we received for our payment! The entire park is asphalt and was recently resurfaced/sealed, as the strong, oil smell clearly indicated. The fee for the south section is $38.65, and $29.65 for the north section. I did not see the other section described on the casino web site for pop-ups and truck campers, as they were all parked in the above described north area.

When we called for reservations, we were told discounts are available for Good Sam, FMCA and AAA members. When we arrived, we presented our AAA card (I am also an FMCA member), but did not receive the discount. When I questioned the young lady, I was told only Good Sam is accepted for the discount (not a Good Sam member).

All coupons and giveaways described in the previous post are gone, as is any food discounts for their in-house player club card. All the comments relative to the mini-mart, laundry, security, etc remain valid. My biggest complaint, however is that Wi-Fi does not exist at the RV Park – only a dial-up line in the mini-mart is available. Also, as the previous poster mentioned, trains run 24/7 along the back fence of the RV Park.

We did eat at the casino's buffet, and it was very clean. The meals were on par with a certain buffet restaurant chain in terms of quality and good variety, except for the price, which was more then double that of the chain restaurant.
Comments