Review Detail
3.3
1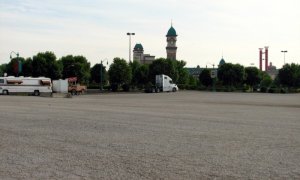 from Ken, the RV Navigator, May 16, 2009

Podcasting the RV Lifestyle
navigator@rvnavigator.com
http://rvnavigator.com

This casino parking lot has easy access to the expressway and plenty of parking for even the largest of rigs. No specific RV parking, just a lot for big rigs. It seems to be popular with the truckers as there were about 25 in the parking lot. This did not limit the RV parking at all for our 40 ft motorhome as the lot is plenty large. As mentioned there is no shuttle, but in good weather there is no need. The front door of the casino is only a short (5 minute) walk from the RV parking. Security gave us the thumbs up for staying the night and they drove through the lot several times that we saw. The casino has several restaurants that cover all of the culinary bases and prices.
The buffet is good quality but a bit expensive at $23.
Comments