Review Detail
2.9
2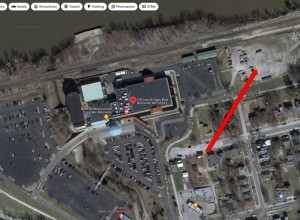 Meh, it's a place to stop
RV parking is on the Northeast corner of the property between the casino and the bridge. It's an empty lot of dirt and gravel. It was dry during my visit, but I could see it getting ugly and sloppy if it rains. The lot is right next to freight train tracks. Thankfully, they were working on the tracks today, so hopefully no trains will be waking me up tonight.

The casino IS associated with Caesar's, but the buyout isn't complete, so you will need a local loyalty card if you plan to earn points while gambling. Slots were incredibly tight, and the table games were ok. I only lost $100.

I went to Brew Brothers for lunch. The prices are a little inflated, but not out of line for casino fare. Staff was pleasant and receptive. There is NO buffet on premises since COVID hit.

Steep incline coming out of the parking lot, and it was apparent that many trucks/RVs took the slight turn too tight and their tandems went off the side into the mud, and then dragged their underside on the asphalt. Just keep your wits about you.

If I had it to do again, I'd probably look for a place with asphalt/concrete rather than risk getting a muddy mess in my RV.
Comments