Review Detail
3.3
1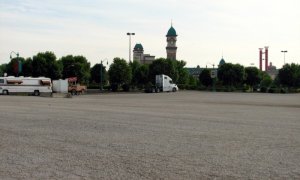 - from Rick and Lucky Lucy, August, 2007

Although we live in the area, we have overnight parked at Ameristar on several occasions. We don't like to drive freeways at night so when we have some special program to attend -- drawing, shows, fireworks, etc. -- we take our motorhome and spend the night.



Ameristar has acres of parking lots plus a 4-story parking garage so plenty of parking space. They ask campers and trucks to park in one lot near the front entrance. You can't miss it, there are always semi trucks parked there and usually some campers. It is a pretty good hike to the casino and no shuttle service is provided. The lot is large enough campers can usually get away from the noise of the trucks.



Our motorhome is small so we normally park in a regular car parking lot closer to the casino then move to the big lot for overnight parking. Sometimes we have a note on our windshield when we come out of the casino telling us where we should park but nothing more serious (or threatening).
Comments