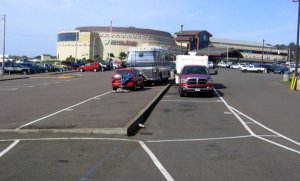 Contact Information
Phone Number:
541-996-5825
Location
Address:
1777 NW 44th Street
Directions:
Take Logan Road north from US-101.
RV Parking and Camping Information
Overnight RV Parking Allowed:
Fee:
40 Player Card Points
Parking Rules:
Overnight RV Parking is once again allowed. However, they require you to get 40 points on your player's card to allow a 3 night stay.
Strictly enforced locations for parking, but are well marked. Must fill out form from security and submit to hotel registration.
Parking Area Description:
Marked asphalt parking area for RV's.
Campground Information
Campground Information:
Logan Road RV Park nearby -- not connected with the casino
Casino Information
Types of Gaming
Slots
Table Games
Poker Room
Keno
Bingo
Oovernight RV parking IS allowed with players points.
Map