Review Detail
3.5
7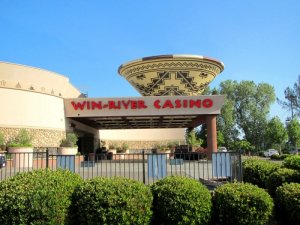 It will be a cold day in the Devils backyard when I return. More later.

The RV park was fine, check in simple and the staff great. For what ever reason the hookups are in a raised island so when you dump you need to hoist the hose several times to drain. More of a PIA than anything. Another minor complaint was the pad had quite a slope to it so since I don't have levelers took awhile to get it right. Again no deal breaker. Desk told me checkout time was 1100.

In the AM wife had to work for awhile so pulled out and parked in the furthest out of the way corner to eat before we left. Just got started eating and over the PA "second call for the owner of a..." I go to where they ask me to report to and no one is there. BP goes up a few points. Find someone to get the casino dog catcher. He and his body guard finally appear. He make a point that I am taking four of his highly valuable parking spaces. Mind you I backed into a corner. I told him if I was to pull into a spot it would have still taken four spaces or two if I left the tail end hang out. He couldn't understand the concept of putting an 100" wide object in a 84" hole plus pulling up so the rear isn't in the road. BP racing up.

Proceed to tell him that the mirror tag is still hanging in the window, they could tell I was an overnight guest throwing more money in the toilet. His response is that I should have parked in the RV lot. He doesn't know they have a 1100 check out time. I guess his badge he got out of the Cracker Jacks forgot to state this.

Bottom line was I would stay to eat, then leave. Tried to get him go comp me for my now cold meal, but that didn't work. BP now going to danger level.

Food was fine, wife didn't do so hot gambling.

Redding always has been the armpit of California, now I know why.




Comments