Review Detail
3.8
7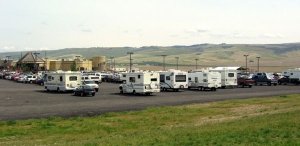 Having stayed in the RV park in the past I did not expect the rate they charged. This campground has been open for some time. It is starting to get a bit ragged around the edges. Front desk folks where pleasant to deal with. And they were quite honest about the rates they charge. Simply put the busier they are the higher the rate. How high? How about $49 with Good Sam discount for a back-in in the middle of the long term parking area. As far away from the offices as one can get.
Yes the utilities worked ok. Even got some WiFi. Fortunately they do offer a shuttle to and from the casino.
The casino is primarily a smoking allowed area with a small area for non-smoking gambling. They now run a buffet every night. It has improved over the years we have stopped here.
Comments