Review Detail
3.7
7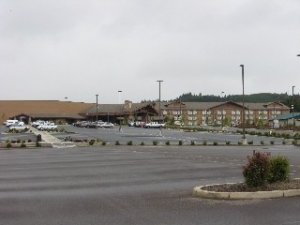 Three Rivers Casino March 23rd 2016
Three Rivers Casino, Florence OR (43 58.831 124 05.250)
Friendly and helpful staff, an excellent and well priced buffet plus a small lake with park-like surroundings by the extensive, level parking lots
Big rig friendly – no real need to unhook the toad unless exploring
This may be the "new" best Casino location for me so far because it offers most of the features that we "casino campers" require for our free nights on the road. Patrons check in as usual with Security to get a four day pass that can be extended if one has enough activity on one's Player's Card, meaning, if you don't play than you will have to move along. With the Player's Card, one gets a "mystery" amount, in my case $10 worth of free play.
The town of Florence is only a mile away with an interesting area by the docks full of seafood restaurants and antique shops
Also, the cheapest fuel, so far on my winter trip for diesel costing $1.69/gallon at the Space Age Service Station, across from Safeway which offered the same price but would have been a little tight for manoeuvring.

Comments