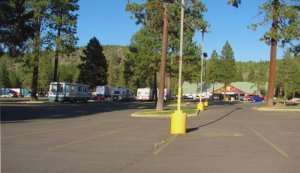 Contact Information
Phone Number:
541-783-7529
Phone Number2:
888-552-6692
Location
Address:
34333 Highway 97 North
Overnight RV Parking is OK
Map
User reviews
May 2019 - Highly recommended !!
What a Wonderful little place. VERY rv and people friendly ! Check in each day you are here and tell them you're in your RV and receive a $2 voucher AND $2 free play Each Day. New members receive 20% off food voucher and $10 free play. We're on our 2nd day and no one has known anything about a stay limit and they are so happy and greet and remember us each day we go in. Maybe we'll stay Forever :-) !! (not) Service station has water spigot's but they are locked but might open if ask. Unfortunately no dump at station or it really would be perfect ! You can stay under the trees (probably best in summer), we stayed in the open gravel area to have more solar access, road noise was minimal at night and there is hotel on site if you wanted.
Inside - nice restaurant with decent prices ($2 voucher) . Slots seem ok (we actually won a little) and VP is 8/5 with progressive for RF. Blackjack tables only and only open late in the day, so not much with the table games. Crater Lake National Park 45 min. drive / Klamath Falls Fred Meier 25 min. and Easy hwy. access for wherever you're going. We HIGHLY recommend this facility for a wonderful travel experience !
Since no one has written about this boondocking stop for a while, I thought I would add that we had a pleasant stay here and agree with what those who came before wrote, except for the fact that the casino is now "no smoking." We had an economical meal at the restaurant which had a limited menu, but the food was good. We stayed here to visit Crater Lake.
A nice spot to park overnight. The lot is huge with nice trees throughout. The Casino is very small and unfortunately very smokey! They have a small restaurant inside, but was just too smokey for us to enjoy the inside.
There is a nice store and gas station located on site with reasonable gas prices.
There is truck traffic noise along the highway but all in all a nice overnight location. If they could just work on the smoke inside we would have enjoyed their October breakfast special!

This is a great place to park and overnight and there is a truck stop on the premisises where you can hose wash your rig. There is also a restaurant in the truck stop that has some real good food.

The parking has a dog area, shade, and plenty of parking with no hassles. We didn't do anything in the casino except use the bathroom which was clean. I found the gambling area lacking. It held no appeal and we didn't try the restaurant however as a place to overnight this place is tops.

- report from Karen B., July 11, 2008

The casino has both truck and RV parking so it's not necessary to park with the tractor trailers. The truck areas are on both the left and right of the casino, unpaved and dusty. It's easy to overlook the RV parking. After pulling into the entry road swing around into the parking area closest to the main road. There are a few long parking spots marked RV on the pavement but this is a large area and you can park anywhere. It's fairly level, with big shade trees and grassy areas - nicer than many campgrounds where we've stayed. It's a little noisy because of the main highway traffic. The poker machines aren't as bad as they were in 2005 - 8/5 JOB now. They've also added a buffet but we didn't eat there.
View all user reviews