Live streaming technology (Pexels)
Online casinos have had a massive impact on the gambling industry, helping the sector become one of the most lucrative in the world.
Annual global revenue topped the $65 billion mark in 2020 and has been forecast to smash through the $90bn barrier by the end of 2023.
Several factors have contributed to growth in the industry including improved regulation and legislative changes in growth markets such as the United States.
Another key driver has been technology, which has provided gambling operators with the tools to develop extremely immersive online casino sites.
The digital variants of games such as blackjack, poker, baccarat, and craps have proved to be hugely popular despite lacking the human element of their land-based counterparts.
However, improvements in streaming technology over the past few years have allowed online casinos to introduce a range of 'live casino' games.
Players can now play live roulette and other casino games via digital devices, with the gameplay mimicking the experience of visiting a brick-and-mortar venue.
Live games have proved to be so popular that many casino operators report they now account for more than half of their online revenue.
We take a closer look at how live streaming has impacted online casinos and assess why players prefer to play live games rather than the digital variants.
An introduction to live online casinos
In the days before the internet existed, anyone who wanted to play games such as roulette and blackjack had to travel to land-based casino venues.
The World Wide Web transformed the landscape by allowing operators to attract a completely new demographic of players to casino games.
Online casinos initially featured digital variants of the games you would play if you visited a traditional brick and mortar casino.
While they proved to be hugely popular, many players argued that they lack the skill element that exists in land-based settings.
For instance, if you play blackjack in a casino, you have the option to use techniques such as basic strategy and card counting to improve your chances of winning.
However, because online blackjack is powered by a random number generator, the outcome of each individual hand is completely arbitrary.
Advancements in technology have helped to address this anomaly by providing operators with the ability to develop live casino games in a digital environment.
These recreate the experience of visiting a land-based casino, effectively bringing the thrills of Monte Carlo and Las Vegas directly to your chosen digital device.
How do live online casinos work?
Many leading operators have invested significant resources into purpose-built studios designed to replicate the thrill of playing in land-based casinos.
These generally feature table games such as roulette and blackjack, which are hosted by a human croupier or dealer.
The action is filmed in real-time by up to three cameras and broadcast via live streaming technology to the player's chosen digital device.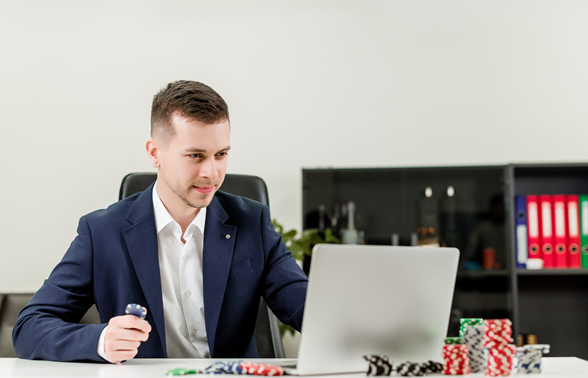 Playing in Live Casinos (canva)
The croupier or dealer can watch what the players see on their screens via monitors, while instant messaging software allows the two parties to communicate with each other.
Most live casino studios have at least one cameraman on hand to ensure that the equipment functions correctly as the games are being played.
There is also often a television or clock on the wall of the studio, allowing players to see that the action is broadcast in real-time.
Live games vs regular games
As we alluded to earlier, one of the biggest downsides of playing the digital variants of casino games is the reduction in the skill element.
Random number generators do exactly what they are supposed to do – ensure that the outcome of each game is generated completely randomly.
This element often negates the player's ability to implement certain strategies, thus tipping the odds more in favour of the house.
Video streaming technology has resolved that issue, by allowing players to partake in casino games hosted by real-life dealers or croupiers.
Live casinos replicate the gameplay experience from brick-and-mortar casinos, giving players much greater control over their own destiny.
While the house still retains an edge, players can use strategies and systems in live casino games to significantly improve their chances of winning.
The future of live casinos
While live streaming technology has changed how online casinos operate, there is still plenty of scope for more innovations in the future.
One issue that operators must overcome is how to handle the growing demand for live games, particularly when it comes to floor space in the studio.
Many leading operators are already investing resources into new studio facilities to ensure they have enough tables available for every player.
Another area where live casinos are likely to develop is the range of games, with most operators currently limited to offering table games.
Given the popularity of slots and game shows in land-based and online casinos, they are sure to become part of live casinos over the coming years.
Top developers Evolution Gaming have already made great strides in this area, creating an exciting new live game show and casino game.
Gonzo's Treasure Hunt uses virtual reality (VR) technology to bring together live and slots-style gameplay in one of the most immersive games ever created.
VR has long been talked about as an innovation that will have a massive impact on the casino industry, but the supporting hardware has failed to live up to the hype.
Evolution's game highlighted that VR technology finally looks ready to deliver the goods, opening up a wealth of possibilities for online casinos.
Poker has already been suggested as a game where VR could have a massive impact, with some operators exploring the possibility of using it in major tournaments.
Further advancements in technology are likely to transform the online casino industry even further, helping it remain one of the biggest boom sectors around.