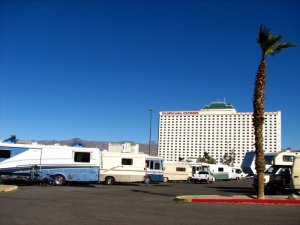 Contact Information
Phone Number:
702-298-4200
Phone Number2:
(800) 343-4533
Location
Address:
2121 S. Casino Drive
Directions:
Enter the casino parking area on the north end of the casino off Casino Drive.. Follow this road straight directly to the north RV park area. The south RV parking area is up the hill.
RV Parking and Camping Information
Overnight RV Parking Allowed:
Fee:
$7 a night / $35 a week
Parking Rules:
Overnight RV parking is allowed - Must Register - Stay limit 28 days and may be extended.

Find your site in the designated RV parking area and straddle the white line with your site number. Stay between the 2 yellow lines designating your site. Note your site number and go to the hotel check-in to pay. They will issue you a permit and receipt. The permit must be displayed in a window so security can see it.
Parking Area Description:
Two large paved parking areas only for RV's (no semi-trucks). Over night parking is in large parking lots with designated and numbered sites. There's a water and dump station available. Dump is $5 or free with a week's camping fee. Nightly camping fee can be comped with 500+ points on your players card.

Hotel amenities (pool, spa, exercise room, etc.) are included in your camping fee. Be sure to ask the hotel desk for your key card.
Casino Information
Liquor Served:
Types of Gaming
Slots
Video Poker
Table Games
Sports Book
Keno
Bingo
Overnight RV Parking is allowed - Must Register with a small fee. Long term OK.
Map
User reviews
3

reviews

Campground/RV Resort

3.5 (2)
Stayed a week in February 2018
Stayed for a week in February 2018. You no longer need to go AVIS to get your parking permit - the hotel check-in handles it all. We purposely stayed here, even though there is a small fee. We enjoy using the pool and hot-tub, which is included with the RV Parking fee. The dump was also included in the weekly fee. We parked in the upper area. Although there is a slight slope, we easily leveled our 40' MH.

There were over 50 rigs in the lower parking area. The casino is normal and the food was good. We found the hotel/casino staff nice, but nothing special. Quiet at night, but cars zooming by during the day. The RV Parking areas aren't too far from the casino. Got a players card, but it doesn't get you much to begin with. No freebies with the card unless you loose money on your first day. They'll then mail you a voucher for the money you lost, up to $100.
Not free, but not bad overall.
We stayed here for 4 nights, in Nov. 2015, paying $7/night, but they gave us free dumping. The problem there is that the place is slanted away from the hole, so your tanks won't completely empty. And there is simply a phone number posted there, so you have to phone into the casino and then wait for someone to open it for you. There were frequent drive-bys of a security person.
We didn't find anyone there to be overly friendly. I asked where to go about the rv parking at the hotel desk and the clerk was quite snippy. I also had to talk to the Player's Club, and the man there was pretty surly.
Not Free RV Parking
Arrived expecting RV Parking to be free. Very disappointed to see there's a $7 per night fee to park your RV overnight. We didn't discover this until we had already parked and setup. Regardless of what all the signs state, you need to check-in at the hotel counter and pay your fees. Then you need to go to the AVIS car rental booth and get your windshield pass. Fairly quiet at night with security driving through periodically.