Review Detail
3.8
7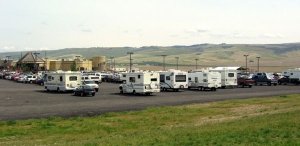 We stopped at Wildhorse Resort and Casino for three nights, with a reservation. The bad news first: all sites are pull-thru, however not all sites are equal. All twelve 50 amp sites are asphalt, level and have grass strips separating each site - nice. The remaining 100 plus sites are all pull-thru, some are asphalt, some gravel; some are more level than others; some have grass, some have weeds. All the sites are 30 amps only, and as stated below, are subject to low voltage brown-outs, or worse, power outages. The sewer location is at the extreme rear of the site – you will need at least 35 feet of hose to access it; the same with the water hose!

Now the good news; all this is about to change. The resort is in the planning stages to begin a major upgrade/renovation of the entire facility. All the RV sites are to be upgraded to 50 amp, grass and asphalt for all sites, a new, larger pool. The casino will likewise undergo major expansion – an additional tower, a 16-lane bowling alley, an expanded Cineplex. The RV upgrade is slated to be completed sometime late next year.

Parking lot use is OK! Many RVs and OTR people; just be certain your genny works, as summer temps can be HIGH - 101-106 the three days we stayed in the RV park.

Comments