Review Detail
3.8
7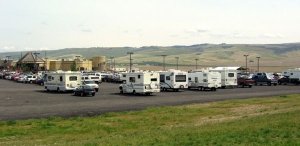 April 22, 2016 Still allowing FREE overnight RV parking in "separate" lot. Level pull through ample sized spaces. There are over 30 RVs tonight. Many are parked with empty space on each side; few are next to one another but may be traveling together.
Parking lot is well patrolled, clean and well lit; although I only spotted one trash can.
Semis are parked nearby- but in separate lot.
Did fairly well on Slots; no promos for New Players.
Comments