When it comes down to ways to travel across the USA, an RV is one of the most traditional ways to do it. It allows you to get onto the open road easily and in general you can park up pretty much anywhere if you need to get some sleep. There are RV parks across the country that make it easy for you to find somewhere safe to stay without breaking the bank.
Of course, if you want a little bit more to your vacation then there are resorts that offer more than just an RV park. There are even casinos in the USA that will allow you to park up your RV and then spend some time inside enjoying the amenities. We have taken a look at the very best casinos out there that will allow you to park up and play.
Fortune Bay Resort Casino
This is one of the most impressive resorts there is at the moment. It's located on Lake Vermillion, so it guarantees some of the most picturesque views in the world. For anyone who travels by RV the ability to take in the scenery comes naturally. So, Fortune Bay will certainly provide a lot for visitors to enjoy. It's not just great to stand and look at either. If you want to get a good look at the surrounding area then you can do so while enjoying a round of golf.
Fortune Bay Resort Casino has a fantastic golf course available that is located right next to the lake. It means that the views it has on offer are truly some of the most impressive in the world.
Once you've had enough of the fresh air then you can take yourself inside to enjoy the casino. This offers around 800 different video machines to play at. Everything from slots to Keno can be played here, offering a great range of choice to enjoy. On top of this there are also table games to play, so card players have an outlet at Fortune Bay.
It also has some great restaurants and bars to enjoy. So if you want to sit back and enjoy some top class food then Fortune Bay Resort gives you that opportunity. The entertainment is more than just the golf course too. Visitors can take in live music shows which are offered on a regular basis. If you're lucky enough to visit when there's been snowfall then you will be able to take a trip on a snowmobile and get out there to see how amazing everything looks with snow added to it.
Fortune Bay Resort Casino is without a doubt one of the best RV friendly casinos to visit in the whole of the USA.
Lakeside Casino and RV Park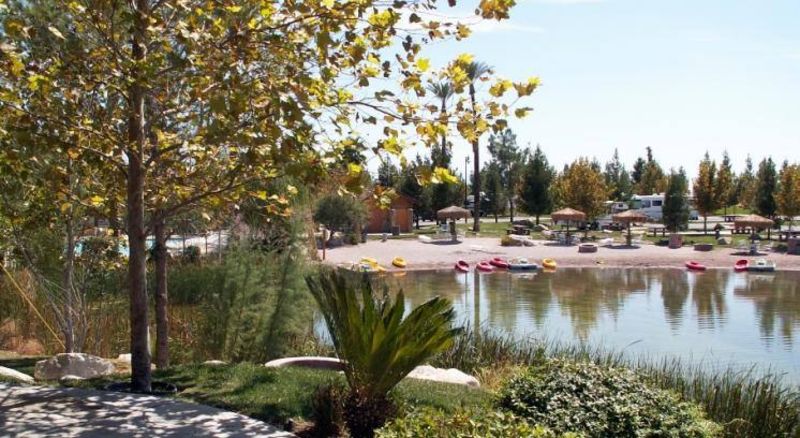 This site is located in Nevada and as you can see from the name it is designed for RVs to find a place to park up. It's very close to Las Vegas, so if you want to see a variety of different casinos you won't have to travel too far. However, if driving for another hour just seems like too much for you then there is a great casino available right here at the site.
What's impressive about the casino is that it allows players to sit at the bar and play. There are integrated games in the bar which means you can find a spot and order a drink at the same time. It doesn't have many table games offered, but there is Bingo available which is a nice bonus. The casino here is perhaps one of the least impressive on this list, but with how close it is to Vegas it brings up the overall casino quality.
The site itself is fantastic. It has space for fishing, a driving school and a golf course. If you want to spend some time enjoying some great experiences then the Lakeside certainly has a lot to offer. There are also a number of hookups, so you can recharge your RV very easily. If you want access to Wi-Fi then this is also available here.
Quinault Casino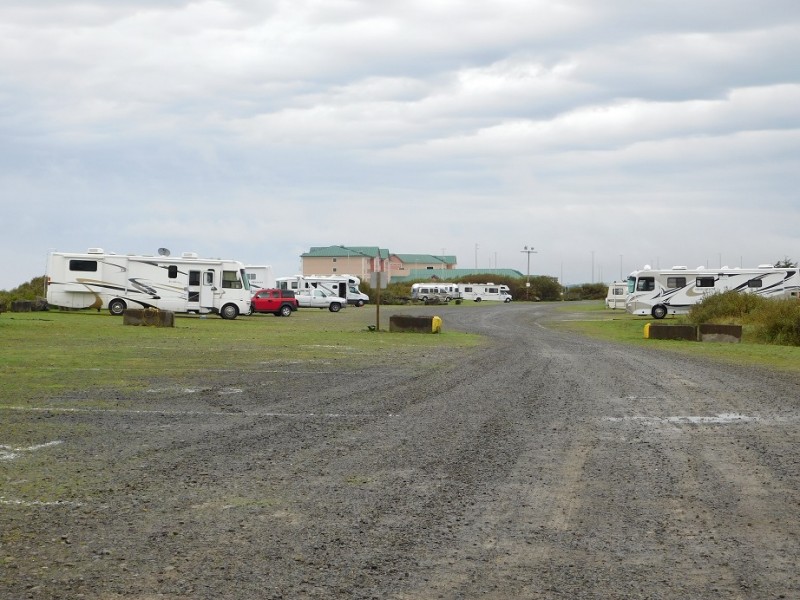 This is one of the best value RV parks there is. Visitors are able to get access to the cheap site for two weeks at a time, with a no return for 30 days policy. This is most likely due to the excellent value that the site offers. However, the beauty of having an RV means that it's no problem to up and leave after the two weeks and spend some time travelling before returning.
The casino is great and allows players to play both at the venue and through the use of an app. So if you don't fancy leaving your comfy RV you can just load up the app and play from there. If you do want to venture into the casino itself you'll get access to some of the very best slots around. The Quinault might be budget in terms of price but it's not budget in terms of what it has to offer.
Other Options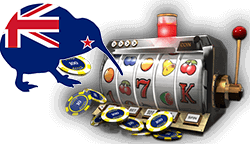 Of course, the RV park that you choose to stay at might not have casino options. This isn't the end of the world though if you want to play at a casino. There are some other options available to you and for the most part you will be able to get access to them without even leaving the RV!
The obvious options for players who want to play at a casino while parked up in an RV park is to play at an online casino. With online casinos recently being made legal within a number of different states in the US, it's now an option for players to enjoy these sites across the country.
There are a few things that you will need to take into account in order to play at an online casino though. Firstly, you will need to make sure that you have internet access available. This can be done via a 4G or 5G connection or through WiFi at your RV park. Of course, the best option for you would most likely be to have access to WiFi. This is because it will usually offer a faster connection, be more reliable and it won't eat into your data plan.
The second thing that you need to check up on is that you're inside a state that supports playing at an online casino. While the number of states that allow online casinos to be enjoyed is consistently growing, there are some that haven't jumped on board yet. So, if the state where your RV park is located doesn't have access to online casinos this option won't be available to you.
Finally, you will need to make sure that you are using the correct and best online casino site or app. Each state will have its own website or apps available for players. If you're inside another state then the site from your home state won't be available to you. This means that whenever you travel to a new state you will need to create an account with a different online casino in order to be able to play.
Once you have gone over each of these aspects you will be ready to play right away. While it might seem like a lot to remember, it's pretty simple once you understand the process. It means that no matter where you're staying, there's a good chance that you can easily enjoy playing some of the very best online casino games in the world.
While online casinos can't provide the atmosphere that a brick and mortar casino offers, they do give players much more choice and they offer a lot more convenience. A lot of online casinos also offer live dealer games too. This ensures that if you want to enjoy a true to life table game experience then that option is available. From here you can simply enjoy a real life dealer either through your laptop or mobile device. Online casinos do make it very simple to get as authentic an experience as possible.