Review Detail
3.7
6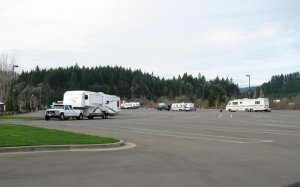 Spirit Mountain Casino March 24th 2016
At Grande Ronde on Highway 18, Spirit Mountain Casino (45 03.582 123 35.013) is another of these large casinos, run, possibly, by the same Indian tribal corporation as Three Rivers and Chinook Winds. Parking lots were nice and flat with RV-sized painted lines, The best thing about this place may be that it has a dump station and fresh water spigot at the back of the parking lot. There is also a big-rig friendly Shell Station on the premises, though prices are not rock-bottom and next door is a propane fill-up station – pretty well everything that a casino-camper could desire. The usual routine of signing in at Security, then obtaining a Players Club Card at another desk applied here, just as at most of the other places I have visited. I was not quoted a limit on my time allowance to stay in the parking lots. There is a free shuttle from any of several covered kiosques in the parking area, each with an intercom for calling the shuttle. I enjoyed the excellent dinner buffet ($15.95) at 5:45 on a Thursday in March. While I went in without waiting, the line-up was quite long when I came out. My server was quick to offer a drink but omitted to give me any cutlery. When she did bring a knife and fork, she forgot a teaspoon - Nor was there any offer of coffee. Other than that, the variety and quality was excellent. Am staying over an extra night because Fridays feature the seafood buffet (more expensive than the regular fare).
One small item of curiosity – the Players Club lady told me that I would have to go back to Security to get a new card as I had filled mine out with black ink. Apparently the casino has a "policy" of using only blue ink. I questioned Security about this and asked if it took a lot of people at a meeting to make such a decision and did he know why since I was writing a book about strange happenings along the Oregon coast and this would certainly qualify. He allowed as how he did not know the reason and couldn't think of any management types who might know the origin and reasoning behind the black-ink-ban. He did mention however that, at his former place of employment (a private prison), they (employees) were restricted to using only black ink and no blue, the opposite of Spirit Mountain. This was also chalked up to "policy" so note to those out there involved with Customer Service training – never quote "policy" and try to have a reason for anything you do – that is much more satisfying for guests and probably for staff who might be inclined to think that some senile god is sitting out there on a cloud flipping coins to see whether the organization should favour black or blue ink.
I wrote this update on a Friday morning and as I sat at my computer, the shuttle buses, like sharks, were being very attentive and circled the RV parking lots every 5 minutes or so. Maybe there was some important revenue-producing event that I should have been attending but I chose, instead, to save my energy for the seafood later on.
Comments