Review Detail
3.9
3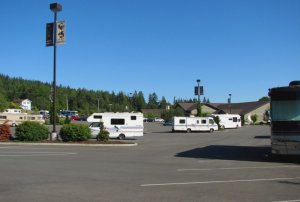 from Karen B., September 20, 2009
To get to the RV parking make the left off of the main entrance road. There's a section for RV parking on the upper edge of the lot and signs which request that RVers register at the casino. We stayed in a different section of the lot for three days and didn't notice the RV parking or sign until we were ready to leave. There were many other RVs parked in the same section with us so I think that this is not enforced.

We checked out the dinner buffet, reasonably priced at $13.00, but not very healthy - lots of comfort foods, fried and gravy covered and not many vegetables. We decided to try the Totem Bar and Grill instead which was pretty good.

If you get tired of gambling there's a beautiful paved 30 mile bike/walk trail directly across the road from the casino. This is one section of the Olympic Discovery Trail that will eventually be 100 miles long. The picture of the casino is taken from the trail.

Comments