Review Detail
2.8
2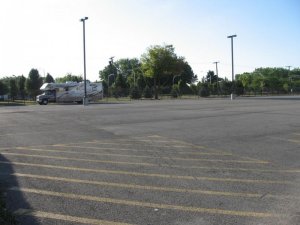 Report from Sean, September 24 2009

http://OurOdyssey.BlogSpot.com

An update on the Seneca Niagara Casino and Hotel

We are staying here tonight, 9/24/2009. Our printed directory, Jane Kenny's excellent "Casino Camping - Guide to RV-Friendly Casinos - 4th Edition" indicated parking was available here and provided directions.

Those directions included getting off US-190 North at exit 21 onto the Robert Moses Parkway. Signs indicated that the road was closed to commercial traffic, but there were no height warnings, until we were already well committed on a corkscrew ramp, where a sign warned of 12'0" clearance.. We stopped on the shoulder and called the State Police for help. When the officer arrived, he asked how tall our rig was -- 13'0" -- and informed us that we would clear the overpass if we stayed in the left lane, and that semi-trailers routinely clear it at 13'6". He did a traffic block behind us and we did clear the overpass with inches to spare. Bottom line, it is no problem for rigs 13' or under, just stay left.

Kenny states the RV parking is in the self-park lot off Falls Street, however this is out of date, The casino now wants RVs to park in the oversize lot, normally used by tour buses, at the northeast corner of the property. Access is from Niagara Street at the corner of John B. Day. Here is the Google Maps view:
http://maps.google.com/?t=h&q=43.08798,-79.05331

There is one other rig with us here tonight, and at this writing several tour buses are in the lot as well.
Comments