Review Detail
4.5
1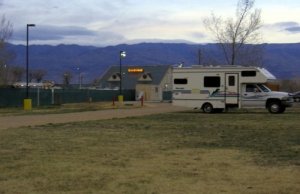 From Karen B., March 2007
The RV parking is a large grassy area with small trees, trash barrels and beautiful mountain views. Check in with the casino security is required. They provide a pass which is good for five days.

To get to the parking area, driving north on US 395 go past the casino and gas station. Turn left onto the road and then right into the parking lot. Continue through the lot to the RV parking.

This casino is fairly small but has a surprisingly good assortment of machines, both video poker and muti line slots. Even though we eventually lost some money we enjoyed playing here. They also have a few blackjack and poker tables.

The Shell station on the south end of town has a dump station - free with 12 gallons of gas , otherwise $5.00.
Comments