Review Detail
3.4
3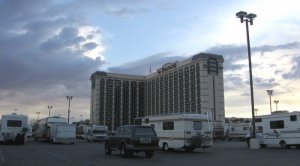 Overnight no longer allowed
The Orleans no longer allows overnight parking. They are pretty nice about it and just left a paper on my window signed by one of their security officers. The paper is pretty clear, and when I called to ask about their policy they made it clear that no overnight parking is allowed unless you are a hotel guest.

I don't know how strictly they enforce this, but that seems to be their policy. They never did knock on the door, and didn't leave a paper until after 9AM following my overnight stay.

Some quotes from the letter:

"If you are not registered in the hotel or fail to answer a page in the casino regarding your vehicle, or fail to register the vehicle with Orleans Security Management it may be Towed and impounded immediately without further notice at your cost."

"All Oversize Vehicles must check in with The Orleans Security Department on arrival".
Comments