Gambling activities are widely available to many adults from all around the world. They're entertaining, have pretty simple rules, and include numerous games, like baccarat, poker, slots, and roulette.
The good news is that nowadays, you can play casino games in a variety of settings, from VR online casinos to Live casino games. Of course, you can also go for the classic online games, where you play against the computer or the AI software or even against other players through a computer system.
If you think about classic casino games, roulette is definitely one of the most loved ones for many reasons. Its history's related to the classiest and wealthiest places in the world, including the Palace-Royal in Paris and the Monte Carlo Casino. Besides being associated with luxury and wealth, roulette is very entertaining and easy to play.
You do not need weeks or months to understand how to play the game, and even a complete beginner could participate in a roulette game. Of course, to master the game and understand each aspect related to how it works, a player would need much more than a few weeks or months.
Whether you are an avid roulette player or you're just starting, you should know that there are numerous options you can choose from. Indeed, the most comfortable and pleasant solutions include online play, as you don't have to depend on being in a particular place, and you can play from almost anywhere you want.
Moreover, live roulette and online roulette options often give access to players using multiple devices, whether it's a laptop, a tablet, or a smartphone. That means you have more options for playing your favorite game, and you don't have to rely on only one device.
If you'd like to discover which type of roulette game better suits your personality, then here are some precious tips that you can use:
Live Roulette offers a more authentic atmosphere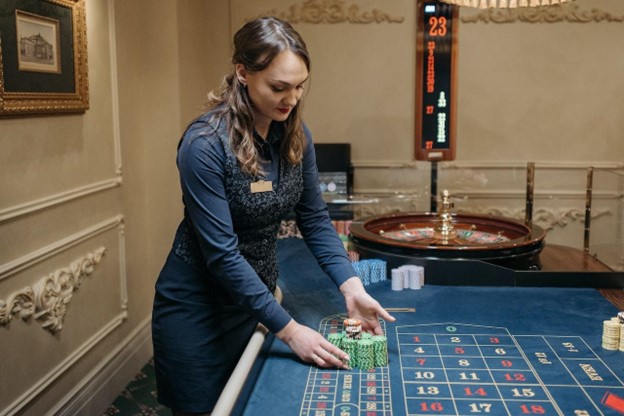 If you'd like to enjoy the authentic casino atmosphere without having to leave your home or even while you're away, then the live option for this game is the best choice.
Regarding the setting, when you settle for a roulette game from a list, you'll connect via live stream with a game provider and have video access to an actual wheel and a specialized dealer that will spin the machine. The bets will be placed virtually, yet the experience remains very similar to the ones land-based casinos offer.
Remote roulette is more accessible
Online roulette is played remotely, meaning you'll have a virtual betting mat and a virtual wheel without needing any live-streaming video. Online roulette uses machine learning and AI technology to simulate all the aspects of a live game, and the advantage is that it's very accessible.
You won't depend on other players, a dealer, or a live casino setting, which means that you can play on the go from your smartphone or tablet.
Live Roulette is best if you like to interact while playing
Live roulette is the best option if you want to socialize while playing. The dealer can respond to messages you type on chat if they want to, and they'll most often try to keep a professional tone.
Online roulette comes in a variety of designs
Online roulette games include the help of machine learning and AI, which means they come in a variety of designs and options.
As you may be aware, there is also an American version of this game, as well as a triple zero and a double-ball variation. Most often, live roulette is about the classic game and follows the basic rules without adding any new elements. So, if you're looking for roulette with a twist, it will be easier for you to find many variations in online roulette.
Live Roulette vs. Online Roulette: similarities
There are some worth mentioning similarities between these two types of roulette. The most crucial similarity is that both types ensure fairness when discussing reputable casinos.
Legitimate gambling platforms will use the most advanced and performant technologies to ensure fair results for their clients, so cheating, scams, or frauds are almost impossible. Hence, reputable casinos offer bonuses, promotions, and rewards to clients.
Roulette is undoubtedly a classic casino game that has gained the interest of generations of players in the last decades and centuries. You can enjoy this game both in a live and classic version since online casinos offer several titles featuring this top-rated table game.
Our advice is to try them out and decide which works best for you. Use the tips above better to understand the similarities and differences between the two, so you can always make the wisest choices.