Review Detail
3.4
3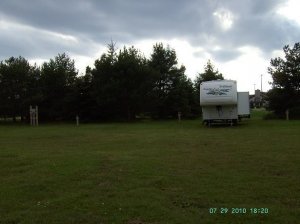 Report from C. Randel, August 20, 2010
 
There are ten RV sites on the west side of the parking lot and each site has 20-amp service, but no water or sewer. The sites are on grass and are very long, but are not wide. The RV park is seldom full so parking in every other site gives a lot of room. The 20-amp electric was strong and never dropped below 115-volts, but we did not attempt to run the air conditioner. (Hint: park near the post with the circuit breakers and your voltage will not drop much.)
 
The sites are $10 a night, but the casino reimburses campers with $10 in tokens. When you register be sure to tell the clerk there are two people in the RV or you will only get $5 in tokens. If you don't want to pay for the RV park there is parking for RVs in a level gravel parking lot behind the paved parking lot for cars. Campers are welcome to boondock in that lot free. The slots seemed to be a bit tight and the restaurant is small and didn't look very inviting so we ate in town.

Comments