Review Detail
4.3
3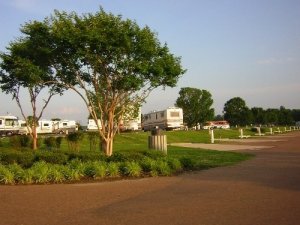 This is a well done facility. We stayed three nights in June 2015. Check in is at the front desk and must be done before occupying a space. The front desk staff were friendly and helpful and advised us to get a players card which would get us 55 cent breakfast buffets and comps on campground. The campground is full service E/W/S and well spaced. There is a special handicap area and both pull thru and back ins. A number of the back ins have a covered table area. We were in a 45' MH in a pull thru with plenty of room for the car also.

Homesteading is not allowed.

If visiting Memphis and not concerned with a 35/40 minute drive I would recommend this to be the place to stay.
Comments