Review Detail
4.3
3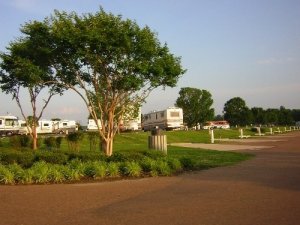 Sams Town RV Park is Closed, Glad we found Hollywood.
My wife and I found this RV location by luck back in August of 2012.
We took a fast trip from California to Kentucky and on our way back we wanted to stop at Sams Town as I remembered from a few years back they had an RV Park but when we got there it was closed the RV Park, So we went across the street and followed the signs to Hollywood Casino RV Park.
I parked at the park but had to walk all the way inside the casino to the front dest to check in.I was givin a code for the door to enter the Casino from the side great for a late night walk.
The food choices sucked as the nice steak house was closed and we dont eat at buffets and the burger cafe food was just that.We could not find the steak house and had to ask security.
Gambling sucked so we walked to the place next door and the whole walkway was covered and lighted, heck it was even a romantic walk as it was a warm August evening, ok getting off subject.
Anyways that was a better casino to gamble.
Getting back to the RV Park it was well worth the few bucks and i am glad we found it.
I think the economy has hit these casinos hard and that is why so many have changed there services, from free drinks at the bar to RV Parks being closed, to having to walk a mile to check in and not at the RV Office.
Comments