Review Detail
4.3
3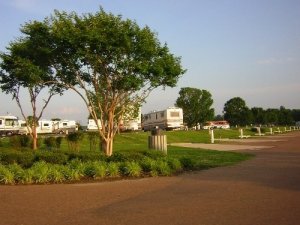 report from John & Joie, October 2008

Hollywood Casino RV park is a friendly and enjoyable place to stay. The bath house/laundry area is new, and very luxurious for a RV park. Just a few more items to add to the other posts:

* The newspaper is not "really" free. You are being charged for it daily. It is up to you to pick it up, or you can refuse the charge and not pick it up also;
* Very limited pull-thru sites. If you require one, the best thing to do is call and reserve a spot prior to arrival;
* Wireless internet was free and reliable;
* Propane is sold at a very reasonable price;
* Pool (with small water slide) and hot tub area is open to RV park residents, but you need to get a pass card from the hotel front desk first, and;
* Casino was very nice with lot's of things to see along the outer edge. We didn't have much luck on machines here on this trip.

For the price, it is a flip-up between here and Sam's Town. If you like to use the park's showers, then Hollywood Casino is the better place to stay at.
Comments