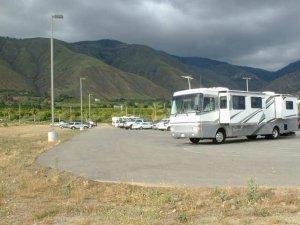 Contact Information
Phone Number:
877-687-2862
Phone Number2:
760-742-2177
Location
Address:
777 Pauma Reservation Road
RV Parking and Camping Information
Overnight RV Parking Allowed:
Parking Rules:
Official Information from Casino Pauma, September 9, 2008

This is Casino Pauma's Operations Supervisor, I am contacting you regarding Casino Pauma's listing on Casino Camper website. I wanted to clarify our policy for parking RV's at Casino Pauma. There are no hook ups of any kind and if you are hauling anything you may not detach while you are parked. There are no power hook ups. The time limit for parking or two nights. You must either be a club member or join the players club. Membership is free. You need to check in with security, either the manager or supervisor, and give the type of RV and a cell number if possible. You may not pull out your table, chairs or awnings. Remember we are not an RV Park.

Overnight RV Parking is OK -- read the rules
Map
User reviews
Great little place to visit and stay
A little hesitant to let out the secret of this little gem, this place is just right for what I want. The food and drinks are at a affordable price.Unlike the other Casinos in the area.
There is a free soft drink station,a small deli and pizzeria,the pizza is great. A cafe with a pretty good menu and a special every night after 5 PM of Prime Rib 2 for $20 you can't go wrong there,it was great! Also if you like the adult beverages,Happy Hour from 5Pm to 7PM is not to be missed.
The Buffet is priced right for lunch and dinner,about $10 cheaper than the other casinos in the area, and the menu changes every night.Checkout their website for the prices
Lots of slots,they seem to be loose as anywhere I have been,maybe a bit better, and a small area for table games,all in all just right for a smaller casino, They seem to have a very good air filtration system,no smoke smell anywhere.

To stay here just park,there is a parking area to your right as you come in, on asphalt it is well lit and level,each spot is about 40ft long or you can park in the huge hard packed lot next to it.
You can stay 72 hours then be gone 48 hours and then return.Just go to the security desk at the entrance and sign in,you will have to have a Players Club Card,it's free. The Security Guards are really nice and informative,they also patrol the parking area quite often.
I was there during the week and it was not crowded at all,now the weekends may be different.
I will be back very soon.

Remains a nice place to overnight
Friendly staff. You still need to get a club card (free) and register. Large level lot with marked spots for big rigs. We are in a 24' B so parked a couple of rows over to get more away from the higher traffic lanes, but not much traffic. Would return if in the area again. (We didn't eat there.)
This review is to update/confirm previous reviews. We stopped here for dinner and an overnight stay while on the way to another campground. RV parking area is well marked, well lit, level and paved and patrolled regularly by security. We signed up for for the club card and checked in with valet booth to give our info (Rv info, plate, cell # for emergencies) The casino is smaller and well kept. Not too crowded. We played slots and they seemed about as "loose" as any other casino. The food (buffet and deli-window) is good and affordable. My apologies that I dont have exact prices, discount info and offers for the club card. But they occasionally do change and you can probably find them online or by calling the casino. We have this casino marked on our GPS as a "Will return" to place.
Rules have changed. Still check in with Security and complete a form- name, address, RV info etc. Stay is now 72 HOURS with a club card. Although they have a designated level dry camp area off the pavement we were told to park "anywhere" and there were rigs that parked on the pavement in the parking lot. Cars were disconnected. Very friendly casino- small but lots of action. The food is HALF the price of the other casinos in the area- Happy Hour is 4PM- 7PM. Will come back again......
Report from L. Smith, June 2008

We just spent Memorial Day weekend at the Pauma Casino. I am enclosing the picture so you can put it on your website if you wish.

We called first and they said camping was fine. Three rigs traveled to the Pauma Casino on Friday May 23, 2008. When we got there we were told that they only allow two nights. I told them when I called ahead I had told the Security person that we need to be there for three nights. They were very nice and accommodated us.

The area is to the left as you enter the parking lot. There is a long row of parking for RV's and Buses. We parked at the end farthest from the Casino. The lot is almost level and clean. There is security in the parking lot at all times. You are safe there. The area is beautiful.

The casino is small, but clean and the food is consistently good. Pull up their website and you will find all kinds of good deals for senior discounts and a breakfast special every morning. The casino also has a good smoke removal system.

The Pauma is only a short drive from the Pala, Harrah's Rincon and the Valley View Casino's. I recommend you get there early in the day as the parking area fills up in the evening.
View all user reviews