Review Detail
3.7
7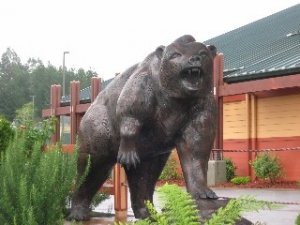 Bear River Casino March 2016
Bear River Casino Loleta CA
GPS N40 37.711 W124 12.390
Paved but moderately angled parking lots – RVs should go to the back as it is a little flatter
Casino typical with lots of slots as well as gaming tables
Hotel and Conference Centre
Restaurant, linen napkin level and a bit pricey, has great view over river valley with ocean in distance
No buffet but excellent prime rib (3 sizes) on Fridays
Security check-in, then take approval notice to Player's Club desk, show ID again, get a Players Club Card and return to Security for a final signature.
This is the sort of system invented by employees concentrating on Security and Marketing aspects of the job, not by anyone with an inkling of good, common sense
Staff generally friendly and helpful if not ebullient
Bear River is a good location from which to set off and explore the rest of the coast. One passes into Oregon after half a day, not that that makes any difference as the roads are equally serpentine and the views just as impressive (once the fog lifts).

Comments