Review Detail
3.3
1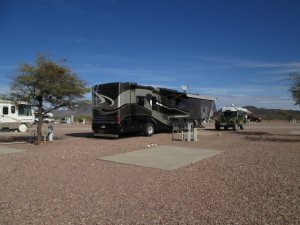 Desert Diamond 4/Hickiwan Trails/ Golkden Hasan Casino
As casinos go, this place is very small, lacks much glamour and is limited to slot machines. Security is present at the casino.
Basically, DD 4 is a tribal gas station with a special diesel pump for larger rigs and prices slightly better than the nearby station in Why
The RV park, however is located behind the casino and is owned by the same tribe (Tohono O'odham Nation). It is operated separately with its own management and is really a gem. Normally, I boondock, and this place is very handy to the dry camping area at Gunsight Wash (3 miles away). Every rig has to get water, dump tanks etc. once in a while and this place is a perfect stop
The new hosts as of Jan 2017 are very friendly and want to succeed in their new venture. I found everything, from sites and laundry to washrooms to be spotless even though that has not always been the case
Very affordable at $19 per day or$85 for a week of full hookups.
The town of Ajo with an IGA and hardware store is 11 miles away and a visit to the huge copper mine and museum is recommended.
The hamlet of Why can't offer much, other than the "Why-Not" general store that has propane as well as fuel, plus a little restaurant that offers excellent fast food and breakfasts.
I don't spend a lot of time gambling so comments on the casino proper are a bit thin.
Comments