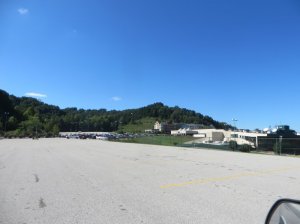 Contact Information
Phone Number:
(304) 776-1000
RV Parking and Camping Information
Overnight RV Parking Allowed:
Parking Rules:
It is "preferred" that you not use jacks, not use slide outs, and not disconnect towed or trailer ???? 2 day limit
Parking Area Description:
Park in wide marked spaces next to fence overlooking race track. Turn to the Right at bottom of the hill as you enter casino area - directly opposed to the Truck parking area on the left.
Casino Information
Liquor Served:
Types of Gaming
Slots
Table Games
Poker Room
Race Book
RV's are allowed to park overnight.
Map
User reviews
Not a 'welcoming' experience
Not very RV friendly or 'welcoming' ! ! The parking area is fine and actually kind of nice overlooking the race track - but the 'preferred Rules' are silly. After explaining that we needed to unhook to get fuel and grocery and support their local economy and that the living area is Useless without slide outs we were begrudgingly 'allowed' to do these, but the entire 'experience' was not a welcoming one. We stayed only one night then moved to the Free city park in St. Albans with free pwr. (38.388534, -81.824755) The gaming was fine for a small casino -- slots And table games incl. craps.