Hard Rock Casino Albuquerque
Hot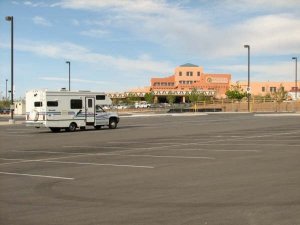 Contact Information
Phone Number:
877-747-5382
Phone Number2:
505.724.3800
Location
Address:
11000 Broadway SE
Directions:
Use Exit 215 from I-25 and go south. Use the furthest south entrance on the left, past the casino, which is labeled for "Commercial Trucks" There is a separate parking area for commercial trucks much like rest area parking slots, but there is also a separate very large lot designated for RVs. It is lined like a regular car lot. We parked along the curb near the steps leading up to the casino.
Campground Information
Campground Information:
There is a full service campground on the right of the highway just south of the Exit 215 listed for $35 a night.
Casino Information
RV Park -- Overnight RV Parking is OK too
Map