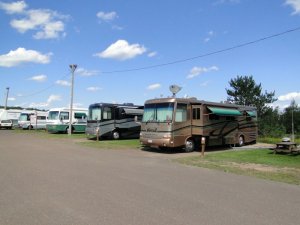 Contact Information
Phone Number:
906-353-2274
Phone Number2:
800-323-8045
Location
Address:
16449 Michigan Avenue
RV Parking and Camping Information
Overnight RV Parking Allowed:
Parking Rules:
Overnight RV parking is OK. This is separate than the RV park, which charges a nightly fee.
Parking Area Description:
Paved parking lot.
Campground Information
Season:
May 1 through November 15 (or weather permitting)
Reservations:
Not required. Usually there are RV spaces available.
Internet Access:
Fast WiFi available.
Big Rig Friendly:
Facilities:
Water
, Sewer
, Electricity (50, 30 and 20 amps available)
, Wi-Fi
, Paved Pads
, Picnic Table

Site Information:
12 full hook-up sites available for $20 a night (includes free drink and $5 in free play).
RV Park and Overnight RV Parking is also allowed.
Map
User reviews
3

reviews

Campground/RV Resort

3.7 (3)