Review Detail
2.6
2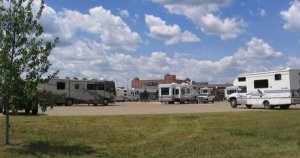 Report from Karen B. July 2007

Follow the signs for the campground. It's $18.00 for full hookups and free for dry camping. The dry camping area is along the grass on either side of the campground office. They didn't require any information from us and said that there is no time limit on dry camping. The only restriction is on generator use.. There's an overflow parking lot to the left of the main entrance if you want to dry camp and use a generator. There's a $5.00 fee to use the dump station. Water fill is either at the office or at any unoccupied site.

The campground has free WiFi but using it's a little iffy. Sometimes the signal was strong and everything worked great , other times it wouldn't stay connected. It also required us to reauthorize our use every morning at 10:00 which was just one click but it kicked us off for a second and we would lose whatever we had been working on.

It's a short walk to the casino and there is also a shuttle. You must call for the shuttle from a dedicated phone on the outside of the office building. Security patrols the campground on a regular basis.

The casino is big with a lot going on. There are two bingo sessions daily , poker rooms and Texas Hold'em tournaments twice a week , a golf course and a marina with dinner cruises on the Mississippi River. The casino appears to have been added on to through the years so it rambles a bit and has several areas with table games and many different sections of video poker along with slots.

We arrived a few days before the annual pow wow so we decided to stay to see it. We had never attended a pow wow and really enjoyed it. The outfits and dancing were wonderful. However the campground which had many empty spaces earlier filled completely so make reservations if you plan to attend and need hookups.

The photograph shows both the dry camping area and the full hook up sites.
Comments