Review Detail
4.3
3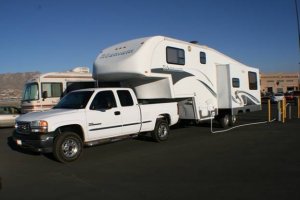 New price for overnight: $15.00/night.
No sewer/black water hookup but you can drive over to the opposite side at the horsemen entrance (east side of the casino) and dump there before hooking up and again before departing. A little inconvenient but still nice to have.

30/50 Amp electricity is available at the 8 sites as is fresh water.
No trees so no shade. You're located in the parking lot but away from the most-traveled portion of it and only in the area where employees drive past to park off behind the casino.
If I am not mistaken, these spaces are located right next to the rack track and #8 is the closest.

At this writing space #3 is out of commission.

It's first come/first served here so, you may not get a space during busy times but also, if I am not mistaken, there is plenty of spaces to park at the west-most perimeter and probably for free. Last night I saw 2 tractor trailers come in and park there overnight with no one having a problem with that.
Comments