Review Detail
4.0
6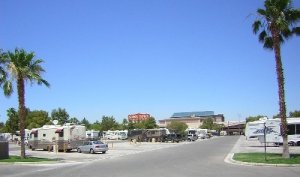 Stayed two days, January 21-23, 2015. KOA has recently taken over management of RV park. There are two RV parks, one north, one south of Sam's casino. Lots of long termers (assuming from space setup).
We stayed on the south side. Bathrooms and showers are clean, two dog runs, common areas are usually clean. For our purpose, we travel with two dogs, it was fine. Quite a few shaded spaces and adequate grassy areas.
Our space was next to the Boulder Hwy but was very quiet late evening and early morning.
The walk to the casino is through the parking garage. Nice walk to stretch the legs. Always felt safe.
Staff was helpful and friendly. Definitely will stay again.

Comments