Review Detail
3.3
2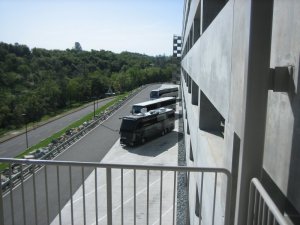 Report from Sean Welsh, April 2010
http://OurOdyssey.BlogSpot.com

We stayed here April 18, 2010. Per security, overnight parking is permitted in the Bus and RV parking area. The RV parking is in the same row of angled back-ins that the tour buses use, adjacent to the east wall of the enormous 8-level parking garage. It suited us fine, but those with slides would have to keep them retracted, and the spaces are only 45' long (designed for buses), so toads or tow vehicles will likely need to be detached and parked in the garage, easily accessible from the RV/Bus area.

Clear signs direct you to the area as you roll up to the casino from the dedicated US-50 off-ramps.

It was pretty quiet, but the busy Saturday night meant plenty of activity in the garage, and I am guessing the valets are mandated to honk at every ramp and turn, because I could hear distant honking constantly from the upper levels, reverberating through the structure.

An elevator in the garage will take you to the casino level. The casino has several restaurants, including a steakhouse, a buffet, Mexican-American and Asian themed venues, and a fast food outlet. Most of the restaurants are located on the non-smoking lower level, which also includes a non-smoking gaming area. Free beverage stations (coffee and soft drinks) are located throughout the casino.

We are not gamblers, so can not comment on pay tables. But a first for us was encountering a special table game area featuring incredibly loud music and very scantily clad female dealers, targeted at the young male demographic. We wondered if casino dealers can file a Cal-OSHA claim for hearing loss.

Google map link is here: http://maps.google.com/?t=h&q=38.69607,-120.90720
(note that, at this writing, the satellite imagery does not yet show the casino or its access roads).
Comments