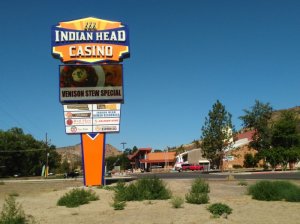 Contact Information
Phone Number:
(541) 460-7777
Location
Cautions:
GPS coordinates may be approximate, doesn't show up in that spot on Google Map image
RV Parking and Camping Information
Overnight RV Parking Allowed:
Parking Rules:
RV parking at east end of lot. I asked at security and they said overnight parking was fine.
Parking Area Description:
paved lot
Campground Information
Campground Information:
There is an RV park at the associated Kah-nee-tah resort 12 miles away.
Map
User reviews
Friendly little Casino, good parking
May 2018
Near-level blacktop parking area, park in marked slots, good lighting and security patrols.
Alongside highway, so a little noise until late at night.
Great food served by happy smiling staff at Cottonwood Restaurant.
Fairly loose slots, some table games, soda and coffee stations available.
Indian Head Casino, Warm Springs Oregon
I asked security if I needed to check in for overnight RV Parking. He said no. I asked if i could stay several nights he said oh yeah. Very accommodating. Every service person I met was very polite. Get $10 free play joining Players Club. Excellent Indian museum across the street.