Review Detail
4.4
2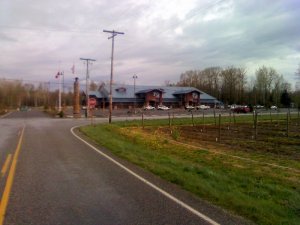 Report from D. Walters, April 2010

Nooksack Northwood Casino is located about half way between the
Aldergrove and Sumas border crossings on Hwy 546 (E. Badger Rd) and less than a mile from the Canadian border. Go North on Northwood Rd approximately 2 miles. Be advised there are no signs, you must pay attention to the road signs. The property owners in the area are not excited about the casino, so I assume they won't allow any advertisements or signs.

The casino is fairly new and medium in size. There are a couple of restaurants, a buffet style and a bar with restaurant. The slots appear typical, we played for 15 minutes and tripled our money.
There is a nice RV area on the East side of the casino with 10 spots, 8 with 30amp hookups, no water or sewer. Dry camping is allowed and the parking lots are flat. See photos below of the casino and RV area.

Comments