Review Detail
3.4
6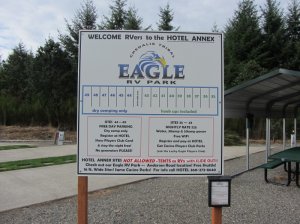 decent options for casino camping.
Lucky Eagle has three options for spending the night. They have a small area at the back of the casino parking lot where you can park. They allow but don't encourage parking there.

Second, is across the street at the hotel. As Retiredguy posted in Winter 2016 they have about 12 spaces that offer water and electric. The spaces are narrow with almost no space between spots. You are not allowed to extend your slide. These spaces cost $25.00 per night. These spots are close to the casino. They include easy access to the laundromat (down the hall from the front desk), pool, and discount at Starbucks.

Third, is a parking lot camp about 1 mile away on Highway 12 across the street from their store. You can call for a shuttle or drive over. If you want to bicycle the road is well paved and fairly wide. These spots are nicer than the ones by the hotel. They do offer sewer as well as electric and water. These spaces are wide enough that you are allowed to put out your slide. These are RV spaces and not camping spaces. They do not allow fires. The biggest negatives are: as with most any casino rv space it is just a nice parking lot. The other bad is it is right on Highway 12 so there is some traffic noise.

Across the street is the tribe gas station and store. When I was there last, August 2018, the gas prices were very low. I jumped at the chance to fill up with diesel and propane. Where just about everywhere else was charging $3.49 for propane they were charging $1.99.


Comments