Review Detail
2.4
3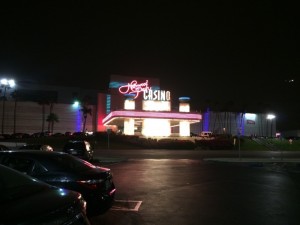 Friendly place, level lot, tough area but patrolled by security 24/7
We parked here for 5 days with our 30' travel trailer and truck. There are signs that say no overnight parking, but if you go inside and ask permission they will give you a parking permit. Important note: You HAVE to ask permission or else you will get a notice that you will be towed. Also note, having a parking permit in your window won't stop a security guard knocking on your door at 2 am to ask if you have a permit. LOL.

Overall, it is in a tough neighborhood but we felt relatively safe as the parking lot is patrolled by casino security 24/7. All of the security guards are super nice and welcoming. They do look out for you and your trailer to make sure it is safe and sound while they are on patrol. We parked at the very end of the parking lot so it was pretty quiet as they have a huge lot, most cars were never within 10 parking spaces of us. Be warned, it is in the flight path for LAX, so if you are bothered by airplane noise then this is not the spot for you. It didn't bother us, so it really was a great simple spot for 5 days. Also, the area is close enough to the ocean that you still catch the cool ocean breeze coming in. We had amazing fresh air with the windows open the whole time. No shade in the lot but the cool breeze and temperate California climate makes up for that.

They just built a new casino that was opening after we left, so we didn't see it but the pictures of the plans looked amazing. It should be pretty nice. Our casino experience was limited because it was only a small portion open while they finished construction. No shuttle, but where you can park RV is only 200-300 yards from the casino entrance so it's not a bad walk at all.
Comments