Review Detail
3.3
1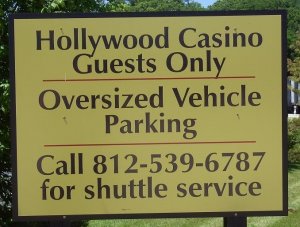 Report from PlugginFool, June 24, 2010

I visited the Hollywood Casino on 6/18/10. I drove past the oversized parking lot that is off property north of the casino. There were no signs on US-50 directing vehicles to the lot. The sign pictured is off US-50 and not visible from the road.
 
The lot is located between the McDonalds and Burger King. I agree with the other report that it does not FEEL like a safe place to spend the night. I parked in the overflow parking lot for the Skyway Garage. Spoke with security and was allowed to park in the overflow lot 3 nights.

Comments